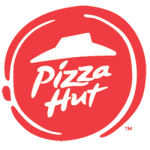 For more than 50 years, millions of fans like you have inspired Pizza Hut to make delicious products for life's favourite moments.
Pizza Hut began with two brothers borrowing $600 from their mom to start a pizzeria. What started out small has now become the biggest pizza company in the world and every step of the way we've remained committed to making the best food and providing the highest level of service.
We like coming up with great-tasting products and exciting promotions because, at Pizza Hut, we've always known that you are what's most important. We know what you want and we've made it faster and easier to get it!
In 1994 we opened our first restaurant in Trinidad and Tobago at Valsayn; today we have twelve (12) great restaurants nationwide serving our customers with the best pizzas, signature pasta and all our great tasting products, providing a great place for family and friends to get together and enjoy a great time and great food whether Dine in, Delivery or Carryout.
Pizza Hut is a division of YUM brands Inc. and has more than 7,200 units in the US and more than 3,000 units in more than 86 countries.
Prestige Holdings Limited owns and operates the Pizza Hut franchise in Trinidad and Tobago offering the best in Pizzas, Pastas, appetizers, desserts, salads and much more everyday to our great customers who look to us for quality products and great service.
Our Purpose
To be the most popular, informal restaurant experience and provide other casual ways to enjoy unequalled restaurant quality foods that energize a spirit of camaraderie and good times any time, any day of the week.
Our Promise
Inspiring good times, creating new traditions, involving friendships and electric energy.