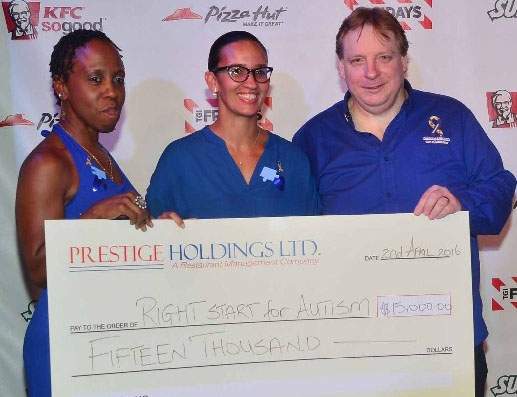 Prestige Holdings Ltd chief executive officer Charles Pashley presents a cheque for $15,000 to Donella Rodriguez-Laird, centre, and Sirlon George from Right Start for Autism to be used towards the autism campaign at the launch at TGI Fridays at Queen's Park West, Port of Spain on April 2.
Prestige Holdings Ltd, the franchise holder of KFC, Pizza Hut, TGI Fridays and Subway, continued its support of Autism Awareness Day and Autism Awareness Month which it started in 2014 with several activities this month.
TGI Fridays in Port of Spain, one of 16 restaurants in Trinidad that was lit blue for autism awareness, was the venue for the official media launch on Saturday April 2.
All guests were asked to dress in blue and were treated to TGI Friday's signature blue cocktails. Other autism awareness events will take place in store throughout the month.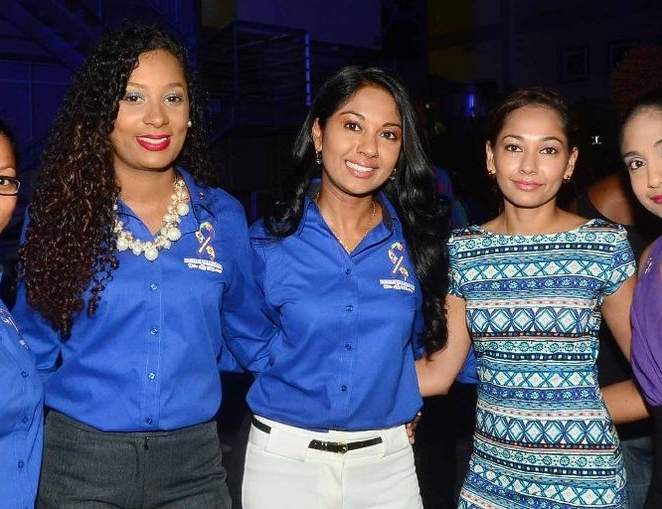 Asha Sanmoogan, from left, Candace Villaroel, Krista Lee Lookit, Karissa Bissoon, and Kaydine Bissoon.